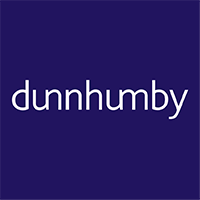 Senior Client Lead
dunnhumby is the world's leading customer science company. We analyse data and apply insights from nearly one billion shoppers across the globe to create personalised customer experiences in digital, mobile, and retail environments. Our strategic process, proprietary insights, and multichannel media capabilities build loyalty with customers to drive competitive advantage and sustained growth for clients. dunnhumby employs over 2,000 experts in offices throughout Europe, Asia, Africa, and the Americas and works with a prestigious group of companies including Tesco, Monoprix, Raley's, Macy's, Coca-Cola, Procter & Gamble, and PepsiCo. For more information, please visit us at www.dunnhumby.com.
Our client team work with a fantastic array of clients; using insights based on data you will own and develop the client relationship - developing, delivering and managing the client work plan in order to deliver recognisable value and client satisfaction, and to achieve our revenue goals for those clients.
What you'll be doing:
Implements our client strategy in the market and delivers our market revenue plan
Leads and supervises Client Leads in executing the ongoing strategy and tactics for their clients
Using project management skills to anticipate, translate and champion needs of the client into an achievable plan consolidating input from across dunnhumby teams, in order to create a joined up plan and approach for clients. Oversees the delivery of that plan. Travels to the client offices as required.
Owns the commercial relationship with assigned clients and executes a client relationship strategy that defines which issues to focus on, which opportunities to pursue and which client individuals to invest in to ensure ongoing retention and growth.
Nurtures strong client relationships and demonstrates an authoritative knowledge of the client and their business in order to advise in line with their strategies and to optimize the value we can offer. Clearly articulates and sells the dunnhumby story, vision and services to clients.
Delivers against revenue targets for the assigned client(s) and converts future revenue opportunities for each client through extensions and through identifying and developing new business development opportunities. Travels to new business pitches as required.
Uses insights from dunnhumby's tools, analysis and consultancy to create client presentations that provide insights and solutions to client issues that will then create measurable change and deliver measurable value to the client's customers
Ensures their clients are fully trained on dunnhumby products and solutions as required.
Ensures client expectations are met and captures the client value created through the creation of case studies and then proactively shares those case studies and best practice with other dunnhumby teams.
What you'll need:
Bachelor's Degree or equivalent in any related subject
Client relationship building and management
Account Management
Project management
Data understanding and strong analytical capability
Insight storytelling
Consultative Selling, Influencing & negotiating skills
Strong communicative abilities
Microsoft Excel (intermediate is essential)
Fluency in both Czech/Slovak and English
Life at dunnhumby
dunnhumbians are passionate people who always start with the Customer, we are ambitious and decisive, we listen and understand, innovate and explore, and work together to grow one dunnhumby
Here you'll be part of a culture that welcomes participation and discussion at all levels
You'll get to work in an internationally collaborative environment alongside teams of ambitious, inquisitive and forward-thinking individuals
We believe that learning and development never stops and provide opportunities to feed your curiosity to understand, improve, and learn; encouraging everyone to build on the best of what we do
You'll have the opportunity to work with ground-breaking technology delivering extraordinary impact for our customers
dunnhumby's spirit of community and the diversity of our people's skills, backgrounds and experiences makes us stronger. We continuously seek to build an environment of inclusion, equality and respect because we know that will make us the best business we can be
We are providing our employees with 25 weeks of holidays, additional day off for your birthday day, loyalty days off, sick days, meal vouchers, pension and accident insurance. We support work from home and we are organizing monthly events for our employees
*** dunnhumby is unable to offer visa sponsorship for external candidates
Send CV to the company