Можливість для людей з України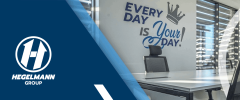 Office Manager
Hegelmann Group
Place of work
Prague, Czechia
Wage (gross)
30 300 - 37 300 Kč/month
Information about the position
Job description, responsibilities and duties
Hegelmann Group is an international transport and logistics company with more than 20 years of experience and trust in our team! Hegelmann Team operates in 19 countries around the world, provides services to thousands of satisfied customers, and this is just the beginning!

Your future tasks:
– Receiving phone calls, working with courier service, receiving and sending correspondence;
– organization of workplaces for new employees, ordering stationery and drinks, cleaning control, etc.
– Building effective work with suppliers of services and goods for the office (control of delivery, orders, invoices)
– Сommunication with all departments of the company on administrative tasks;
– Fast and high-quality search for the necessary information and implementation of other tasks given by the line manager.

What we expect from you:

– Knowledge of Russian and Czech
– Fluency in computer and MS Office suite
– Responsibility, punctuality, politeness, attentiveness and concentration on tasks;
–Stress resistance
– Ability to organize your work
– Readiness for non-standard tasks, ability to work in multitasking mode
– The desire to start a career in a socially responsible company that follows trends and values the ideas of employees!

We offer:
• onboard you at the expense of the company;
• provide employment guarantees;
• provide corporate communication;
• introduce a system of benefits;
• carry out corporate events;
• work in modern offices;
• introduce a system of benefits;
• friendly teams that works in a nice and professional atmosphere!
Requirements for the employee
Candidates with education suit the position
University education (Bachelor's degree)
University education (Master's degree)
Language skills
Czech - Upper intermediate (B2) and Russian - Upper intermediate (B2)
The position is suitable for a fresh graduate
Yes
Advertiser
Brief description of the company
Hegelmann Group is a family run business originating in Bruchsal, Germany. Since its founding in 1998, we expanded our company throughout Europe and North America. Over the years we were able to become a global player in the logistics industry and are able to provide services throughout a great amount of different sectors and industries.

Our philosophy "Striving for Excellence" reflects our core values and is deeply embedded into our DNA. We are driving innovation and progress and do everything we can to provide a wide range of logistic solutions. This way, our customers can always be on the pulse of the service.

Our company has a clearly defined mission that is giving our employees, our customers, and our suppliers a straightforward idea of what our companies purpose is. It focuses on the importance of our services and the desire to stay innovative across all our departments.
Contact