Country Manager CZ and SK
50 000 - 100 000 CZK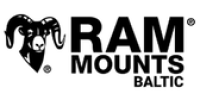 Country Manager CZ and SK (Ref. No.: CZ/07/2019)
RAM Baltic Sp. z o.o.
Place of work
Praha, Czechia
Start date
September 2019
Total wage (gross)
50 000 - 100 000 CZK
Information about the position
Job description, responsibilities and duties
RAM Baltic Sp. z o.o. is Easter European distributor of American manufacturer Ram Mounts, who is supplying almost all channels in professional holders Ram Mount and protective accessories Intelliskin GDS. In connection with the intensive development in Czech Republic and Slovakia, we are looking for candidates for the position of:

Country Manager CZ and SK
Location: Prague or Bratislava (preferred)

Task:

- Setting up sales and marketing activities in Czech Republic and Slovakia with direct responsibility on it,
- Responsibility for shaping, modifying and improving the sales process and customer service,
- Representing the company during a presentation, discussions, negotiations with key customers,
- Representing the company at trade fairs, conferences
- Close cooperation with the management of the company


Expectations:

- Minimum 3 years of experience in sales management B2B optimally in the international environment
- Prior established experience in B2B sales, eg. in positions: Account Manager, Key Account Manager, Business Development Manager, Sales Manager or related
- Big advantage is knowledge of IT Integrators, Bar Code scanners Distributors,
- Higher education – in the area of management or economics
- Good knowledge of English
- A high level of personal culture and ability to negotiate with key customers
- Ready to hold business trips in the region
- Solid experience in sales
- Highly developed communication skills
- Involvement, high level of personal engagement
- Attitude to effective action

We offer:

- Competitive salary 50'000 CZK – 100'000 CZK
- Suitable tools for work
- Work in stable and fast developing company
- A lot of support from an experienced team in headquarter

We guarantee full confidentially.

We will response to only selected candidates.
Requirements for the employee
Candidates with education suit the position
Follow-up/Higher Professional Education
University student
University education (Bachelor's degree)
University education (Master's degree)
Language skills
English - Upper intermediate (B2) or Polish - Upper intermediate (B2)
Driving licence
B
Advertiser
Brief description of the company
Ram Baltic is a international company with HQ in Warsaw, Poland. Our main activity is distribution of technical equipment in all Eastern European countries.
Company address
RAM Baltic Sp. z o.o.
Kierbedzia 4
00728 Warsaw, Poland
Poland

Contact